A CLOSE SHAVE IN HAUNTED LONDON
When did you last have a hair cut? Or, for that matter, when did you last enjoy a mouth-watering meat pie?
Well, you might like to nip out for a quick short, back and sides and follow it with a tasty, crusty treat before joining this gruesome tour of spectral London.
Why?
Because it's a sure bet you'll never want to go near a barber - nor want to sink your teeth into the pastry topped crust of a meat pie - once you've taken the Sweeney Todd and other Demons London Ghost Walk!
A CHILLING AND THRILLING NIGHT

The tale of Sweeney Todd has enthralled people ever since he slashed his way on to the pages of London folklore in the 19th Century.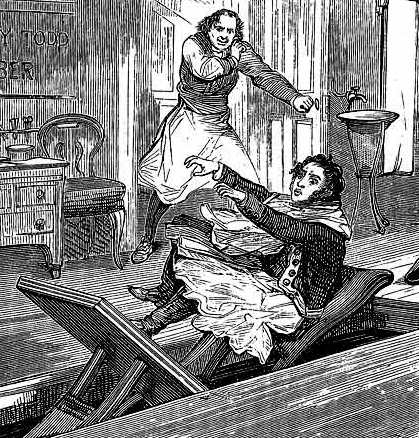 Generations of Londoners have shuddered in horror at the story of how he murdered his unsuspecting customers and, in league with the loathsome Mrs Lovett, turned them into the tenderest and tastiest meat pies imaginable.
But this deadly duo are not the only menacing figures you will encounter on the Sweeney Todd Ghost Walk.
For the tour is packed to the gunnels with murderess midwives, malcontent mistresses, ghostly knights and spectral black dogs. Not to mention the raving revenants of long dead ne'er do-wells whose stories will chill you and thrill you in equal measure as you delve into the darker recesses of the gas lit city of the dead.
BAGS OF ATMOSPHERE AND LASHINGS OF TERROR
As with all of Richard's haunted London tours, the route that this walk takes is truly atmospheric. Indeed, it has been carefully mapped out to ensure that, not only do you get to hear some truly spooky ghost stories, but you do so in genuinely creepy surroundings.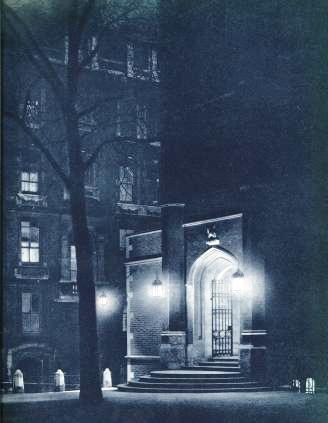 The walk wends its way through dimly lit alleyways that open onto tucked away courtyards from which the past has yet to depart.
These places, steeped as they are in the ambience of bygone London, have managed to fend off the advances of the 21st Century and have kept their ghostly secrets well and truly hidden from all but the most prying of eyes.
But, with author, broadcaster and storyteller Richard Jones as your guide, you are about to lift the veil and uncover the secrets behind their jealously guarded spectral mysteries.
So, as you pick your way through these time-locked backstreets, you will get the distinct sense that the eyes of the former resisents are watching your every move, and that they might well step from the shadows at any moment!
How spooky is that?
HIGHLIGHTS OF THE TOUR INCLUDE
The backcloth of a truly dramatic start point - who can fail to be awed by the towering splendour of St. Paul's Cathedral as it looms over them by night?
A hidden court where the menacing shadow of the dreaded Black Dog bodes ill for all who cross its path.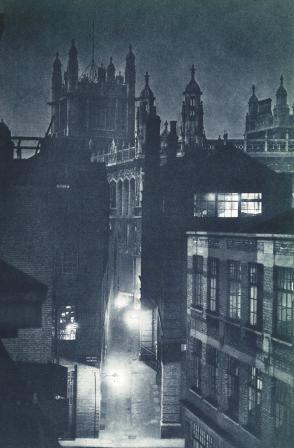 The strange tale of the evil baby farmer Amelia Dyer, who returned from the grave to strike terror into the heart of a prison officer to whom she had made the menacing prophesy "I'll see you again one day" as she passed him on the way to her execution.
The narrow, medieval street where people walking along it late at night have encountered a strange "something."
The cobblestone courtyard where many who have taken the tour have captured a bizarre "something" on their cameras.
The old church tower where an ancient bell has been known to ring out of its own volition to mark the passing of a church's vicar.
The time-warped burial ground where one of 18th century London's strangest tales was played out.
AND THEN COMES THE ULTIMATE HORROR
Having been chilled, spooked, shocked and creeped out by these truly haunted, and haunting, places, you will arrive at a sinister passageway that leads into the courtyard where Sweeney Todd carried out his barbaric barbering.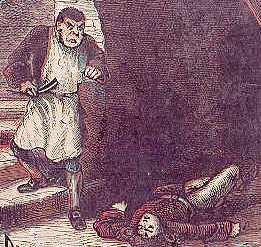 Now, it has to be said that this is a genuinelly creepy location. In fact, it is safe to say that it is one of the creepiest locations in London.
The traffic of modern London will be but a few feet away. Modern day Londoners will be going about their daily business just a few feet away from the tiny court in which you will be standing.
Yet, having ventured into this chilling place of murderous malice, you will find yourself on edge, wary of any fleeting shadow, or glint of light, that might spell the demon barber's return.
WE FINISH IN A HAUNTED, HISTORIC PUB
With all the horror and ghostliness you will have encountered on your journey through haunted London, you might well find yourself in need of a drink. So our walk will end at one of London's most historic, haunted pubs.
Having stepped over its time-worn doorstep, you will find yourself pitched back in time.
Dark corridors, creaking floorboards, low beams and a creepy subterranean former crypt await your discovery in a hostelry that is locked in a time-warp and which is still much as it was when its first clients crossed its threshold in 1667.
And, so content are some of them with its ambience, that they are loath to let a little thing like death stop them from enjoying its hospitality.
Cheers and Chills!