TAKE A WALK ON LONDON'S DARK SIDE
Monday 31st October 2022 At 7pm
It's Halloween, the spookiest night of the year. The night when the veil between this world and the next is at its thinnest.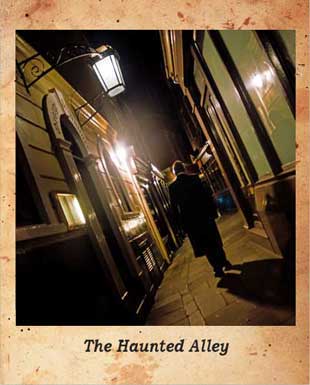 The night when twilight creeps through the old alleyways and older courtyards at the heart of the city of London and long forgotten residents return to roam the streets and places that they knew so well in life.
And there is no better night to enjoy a spooky ghost walk through the streets of the ancient and haunted City - the atmposheric City of the dead.
Thus it is that the Richard Jones's annual Halloween haunted London tour sets off in search of the places where ghosts have been seen, and you are guaranteed a night of chilling surprises.
Even the station where your tour begins is haunted!
And, let's be honest about this, what better location could there be from which to set out on a tour of the spectral streets of old London than a haunted underground station?
LONDON'S ONLY EXPERT LED HALLOWEEN WALK
Richard Jones is the author of the best selling books on the paranormal Walking Haunted London; Haunted London; History and Mystery Walks of London; and Haunted Britain and Ireland.
When you join Richard Jones on a ghost walk you're not joining a guide who has read a few stories in a book, you are joining the man who wrote the books that other guides often use to plan their ghost walks.
Richard was the resident historian on Living TV's cult programme Most Haunted Live from 2003 to 2005, in which capacity he took part in two Halloween televised live ghost hunts that were watched by millions of people worldwide.
He appeared on and was the historical and locations advisor for the Discovery Channel's Haunted London Special and is widely acknowledged as the best ghost walk guide in London.
HIGHLIGHTS OF THE HALLOWEEN TOUR INCLUDE
A tucked away courtyard where you will hear the strange tale of what befell one of our walkers when they decided to take a souvenir away from our 2005 Halloween Ghost walk!
One of the city's most picturesque buildings, London's wonderful and attractive medieval palace.
The city's most paranormally active building and THE building that many people who have joined the ghost walk have actually experienced possible supernatural activity. It might even happen to you tonight!!
Richard will also take you into a little garden where the ramifications of a long ago murder are still said to echo down the centuries.
Then there's the place where one of London's most bizarre "strange tales" reached a dramatic climax. It's a gruesome tale that will hold you spellbound as it unfolds before you!
AN ATMOSPHERIC ROUTE AND GREAT GHOSTLY TALES
Throughout the evening you will hear ghostly tales galore. Some of them well known London ghost stories, some of them lesser known and several that are unique to this tour.
Furthermore, with Richard Jones as your London Ghost Walk guide you are joining London's master of the macabre who is widely acknowledged as London's best ghost walk guide.
So join London's Master of the Macabre on a journey through the city of the dead and enjoy a ghost walk that is packed with atmosphere and which is presented by a masterful story teller whose dramatic presentation and skillful delivery will keep you on edge all night long, ever wary of who, or what, might be lurking around the next corner, or waiting just a few graves along.