A HIGHER CLASS OF GHOSTS
Join London's undisputed Master of the Macabre, Richard Jones, for a tour de force of a ghost walk around the haunted locations of one of London's most exclusive quarters.
This is an area that is posh with a capital P. For that matter it's posh with a capital OS and H as well!
Consequently, many of the ghosts encountered on Richard's tour of London's haunted West End are, well errr..... Posh.
These are the ghosts of people whose living selves weren't just born with silver spoons in their mouths. These are the wraiths of those who owned all the silver spoons!
But death is a great social leveller and, on this ghost walk, we seek out the earthbound spectres of lords and ladies, princesses and princes, kings and queens, the noble and the ignoble - all of whom have been forced to share their ethereal plain with a goodly smattering of mundanely ordinary men and women whom their living selves would have considered to be far beneath them on the social stairway to heaven!
A HEADLESS PHANTOM FROM THE DEPTHS OF THE LAKE
To begin our wander around the most haunted locations of London's West End, we enter the dark hinterland of a Royal Park where we glide over a tiny bridge that crosses the dark waters of creepy lake.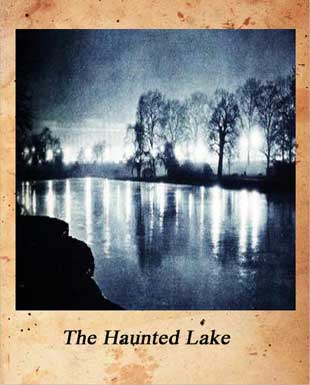 It will come as little surprise when your guide informs you that this is a haunted lake.
Indeed, from that moment on you will be keeping a keen, though nervous, eye trained upon its ink-black waters, lest the dreaded headless spectre should suddenly rise from its icy depths and run screaming across the park, much as it has been doing now for nigh on two hundred years.
You will hear of some of the many people who, over the years, have witnessed this strange and inexplicable phenomena, and your guide will update you on the most recent occurrences of this truly bizarre and unsettling supernatural activity.
We will ponder the long ago act of infamy that may lie behind this sinister apparition and we will also confront such troubling questions as how it is possible to "run screaming" if you haven't got a head?
CHARLES AND CAMILLA'S RESIDENT ROYAL WRAITH
A brisk walk will bring us to Clarence House, the London abode of Charles and Camilla, who just happen to share their home with a resident wraith of noble birth.
Whether it is they, or the Queen and Prince Philip at the, also haunted, nearby Buckingham Palace, who come out top of the spectre stakes will be for you decide as your guide regales you with the tales of the hauntings at both properties.
GHOSTLY ECHOES OF A LONG AGO MURDER
Maintaining our royal theme, we move on to enjoy a spectacular view of one of London's oldest palaces where the ghostly reverberations from a long ago murder echo down the centuries.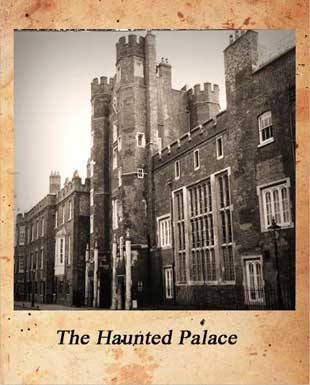 The story behind the haunting at this illustrious address is a truly gripping one, concerning, as it does, a man who, thanks to his high social standing - and we're talking amongst the highest in the land - may well have used his position to, quite literally, get away with murder.
Whether or not it was murder - or as he claimed suicide - it has resulted in one of the most dramatic hauntings of our evening.
The sound of a corpse being dragged over a cold stone floor and the sickly, sweet smell of freshly spilt blood drifting through the palace's ancient corridors are the hallmarks of this particular haunting, so you might want to bring a nosegay along to mask the nebulous niff that may well assail your nostrils during the telling of this chilling tale!
GREEN PARK'S SINISTER TREE OF DEATH
Next up, we tread lightly through a dark passage and enter Green Park where we encounter a troublesome conundrum.
Although it is well known that a sinister "tree of death" sprouts from the hallowed turf of Green Park - every ghost book for the last hundred years has mentioned it - nobody knows for certain exactly which tree that tree is.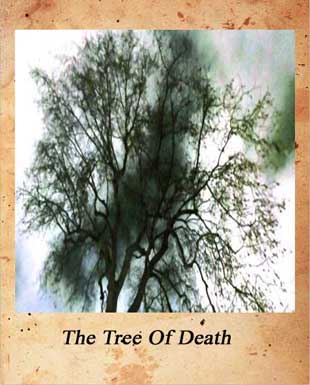 Sure, there are those who will point at a particular tree, and assure you in hushed and sombre tones that that is the tree from whose branches no birds ever sing.
Pointing with tremulous finger, they will assure you that that is the tree beneath whose canopy many who have fallen asleep have oft slipped away into the hereafter without ever waking again.
But those who feign such certainty are just guessing, and one thing we don't do on this ghost walk is guess!
What we will do, is take a selection of trees - we know the vicinity in which the tree of death is located - and, as a group we'll make a democratic decision as to which one of the trees hereabouts just feels wrong and, having done so, we'll then give it a wide berth!
SHE CAME TO ESCORT HER SISTER TO THE HEREAFTER
Mention of the hereafter segues nicely into our next haunted location, reached by a deliciously spooky little tunnel that creeps beneath some of London's most exclusive residences where the great, the greater, and the even greater, still live today - a well known media mogul, for example, has his London residence above the dark thoroughfare through which we'll be walking.
It will deliver us to an old house, which is set back from the main highway, and which possesses an air of detached glumness that gives the decided impression it is determined to keep the modern age firmly at bay.
Indeed, gazing upon its faded, yellow facade, you can't help but feel that whatever spirits reside within its old walls truly resent the encroachment of the 21st century into their backwater hideaway.
It was to this old house, on one foggy December night in the 1850's, that a ghostly spinster returned from beyond the grave to escort her dying sister on her final journey and was seen, and recognised, by several members of the family.
OSCAR WILDE AND A PENNY PINCHING PHANTOM
Our journey through haunted London then continues via a series of lovely streets in which we encounter the abode of, among others, the first man to be run over by a steam train.
These glorious old streets will bring us to the site of the theatre at which Oscar Wilde's restless spirit once came through in the course of a séance and proceeded to pass on a personal message to astonished sitters.
Next door stands an old pub where a 19th century murder has left its mark on the building's ethereal fabric with, frequently, chilling consequences!
Having lingered for as long as we dare in the dark alleyway beside the pub, we stride over to a corner where a journalist once encountered the wraith of a very posh lady who proceeded to demonstrate that, although you can't take it with you, there's no harm in trying to ensure that you keep your ghostly mitts on as much of your family's fortune as it is spectrally possible to do!
Then, we drift silently through some of the exclusive West End streets to pitch up outside the illustrious, not to say swanky, location where a ghostly nun made the night time shifts of the security guards a good deal less than secure during a Halloween art exhibition in 2010.
THE MOST HAUNTED HOUSE IN LONDON
Via a few more haunted locations we will reach what must surely be a highlight of any tour of the Capital's spectral landscape, a building that once had - and in certain circles still has - the chilling distinction of being the most haunted house in London.
The place is awash with tales of horror and of ghostly goings-on.
Tales of those who have had the misfortune to encounter the sinister thing that lurks on its upper floors.
Exactly what that thing is nobody knows.
Few who have set eyes upon it have survived the confrontation and those that have survived have never been in any fit state to report back on what it actually is.
Richard, however, will be able to give you a genuine insight into just how scary time spent inside this old and haunted house can be.
As part of a BBC programme on haunted London he was actually locked in the dark in the room where the ghost is said to lurk and, although he didn't encounter the thing he will gladly attest to how creepy the room was and to how he found it to be one of the most terrifying things he has ever had to do.
And this is a man who spends his professional life visiting haunted locations across Britain and Ireland!
JOIN LONDON'S DOYEN OF THE DARKNESS
So, if you're looking for a Sunday evening of spooky fun, and you want to see streets, alleyways and buildings that are both haunted and steeped in history, the join London's acknowledged expert on the paranormal for a ghost walk that is informative, lively, fun and, of course, thoroughly chilling.