LONDON'S BEST GHOST WALKS
WITH THE CAPITAL'S MASTER OF THE MACABRE
If you want to explore the darker recesses of London on a ghost walk or haunted tour then be sure to join the London Ghost Walks that are led by London's master of the macabre - Richard Jones.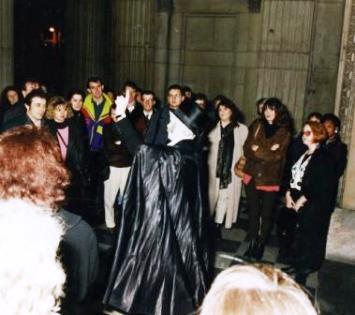 Richard's London Ghost Walks are widely acknowledged as being the best on offer and are both informative and entertaining.
In Richard's ghoulish company you will experience a fascinating journey through the streets, graveyards and alleyways of old London where a legion of lost souls have been just dying to make your acquaintance.
THE ONLY GHOST WALKS TO BE LED BY
A GENUINE AUTHORITY ON HAUNTED LONDON
When you take a London ghost walk with Richard Jones you are not joining a guide who has simply read a few ghost stories in a book.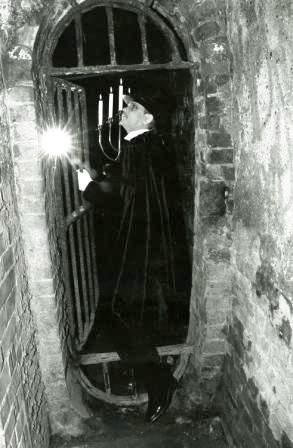 With Richard's tours you are locating the source, the man who wrote the best-selling and definitive guides to the capital's sinister and supernatural history Walking Haunted London, Jack the Ripper - The Casebook, Haunted London, Uncovering Jack the Ripper's London, and History and Mystery Walks in London.
Richard's books are often used by other guides to plan and research their own haunted London tours.
But why join a guide who has read a book when you can join the guide who wrote the book?
The guide who, in addition to having written books on paranormal and sinister London, has also written 16 other acclaimed books on haunted Britain and Ireland and who is internationally recognised as the true authority on the ghosts of London.
A GUIDE WHO CAN TELL A GHOST STORY
But you are also joining a masterful storyteller whose dramatic presentation will breathe life into the history that surrounds you, and whose enthusiasm for his subject will prove both bewitching and contagious.
WATCH A CLIP OF RICHARD IN ACTION
His ability to narrate a spooky tale and set just the right mood with his audience is second to none. And, let's be honest, you can have the best stories in the world but if you can't put them across in a gripping and entertaining way then you are going to lose your audience. As you can see from the above clip Richard can tell a ghost story in such a way that his audience is held spellbound and on edge throughout the entire duration.
UP TO DATE ON RECENT PARANORMAL HAPPENINGS
Richard is up to date on all the most recent paranormal happenings in London and he knows those places where ghosts are seen. Places that are genuinely chilling and haunted. Places that other tours will not take you to because no other London ghost walk can offer you the same level of knowledge and expertise as Richard's original London Ghost Walk.
LONDON'S BEST GHOST WALK GUIDE
CUSTOMER TESTIMONIALS FOR THE GHOST WALK
Those who have joined Richard's ghost tours have often commented on his spot-on timing and his superlative storytelling ability.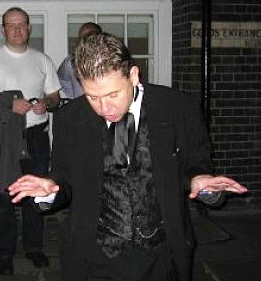 Indeed, many of those who have joined Richard on his London Ghost Walks have written to say how much they enjoyed them and have given their permission for their comments to be used as testimonials about the quality of the walks.
Dan Neidermyer took Richard's ghost tour on June 7th 1998. He later sent a letter applauding what he considered to be the "best" walk in London.
Dan is something of an expert on guided walks since he has "sounded out" and experienced Richard's competition over many years, making him ideally placed to make an informed decision on how they compare. This is what he wrote:-
".....I had the privilege of being a member of that "very-fortunate-for-choosing "THE-LONDON-GHOST-WALK'" audience. Truly what a fun, fun experience! What an entertainer you are! I've been coming to England - and London in particular for many years. Over the years, I've done almost all "The Original London walks." In all honesty you are truly the "BEST." What a great evening. You gave so much to your group. You are a truly talented performer and what a privilege to watch you work. Thanks for caring so much about a Sunday night group...for truly enjoying performing so much and letting your tour group see your enjoyment...and for giving us a great evening in London, now and in its past!..."
Dan Neidermyer
Maranatha Productions
Andy Vine of Eastbourne Coaches organised a night time tour with Richard and brought a coach load of participants into London. He later wrote to say what a great night his clients had had. Again, Andy is in a position to give an informed opinion on the standard and the quality of a tour since he operates coach tours all over the country and so is able to make genuine comparisons. Concerning Richard's guiding and storytelling ability Andy had this to say:-
"...Thanks for a great tour. As a coach operator we organize quite a few events that include guides and I must say yours was the best I have come across ... thanks for your great work...."
Andy Vine
Eastbourne Coaches
In February 2009 Annabel, a student at Imperial College in London, joined Richard on his Friday night Hidden Horrors Ghost Walk. She enjoyed it enough to make it the subject of her student blog on the college website. This is what she had to say:-
Our tour guide, Richard Jones, who possesses a superbly oratory and expressive voice, guided us from place to place in the local area...the guide put in neat bits of acting, stuttering or pausing to flinch as his delivery was distracted by unseen flickers in the background, throwing cautious glances, askance, and making all of us jump with perfectly timed volume changes in his storytelling. "BANG!" he screamed at one point, and "AAAAAARRGGH!!!!" at another, into the face of a poor girl who instinctively replied "AAAARRRRGGGHH!!!!!!!" right back. Odd. Historical. Exercising. Spooky. Fun!
Annabel's Student Blog
Imperial College, London
Chris Warren of the Monarch Airlines Sports and Social Clubs has been bringing groups on Richard's walks since the mid 1990's. They do at least three walks a year with Richard and the coach is always full. In early 2009 they joined Richard on his Jack the Ripper walk. Chris later emailed to thank Richard:-
Just a quick e-mail to say what a superb Jack the Ripper walk we had with you recently, it was the best walk Monarch social club have been on. We have had a few walks in the east end of London but none matched the excitement we had when on your walk. Richard, you brought the walk to life and for a while our imagination took us back to the smoke filled, cold dark nights of the east end during 1888. Can't wait to book again to allow other members to experience part of London's History. By far the best evening we have had for a long time, recommend your tours to anyone.
Chris Warren
Monarch Airlines Sports and Social Club
On June 17th 2009 Richard took the pupils from St. Peter's School on a London ghost walk. Their teacher later wrote to thank him "for the entertaining Ghost Walk." She went on to say that the children "really enjoyed themselves and, despite having had little sleep, they were also attentive - testament to your story-telling abilities..."
The pupils themselves also wrote to say how much they'd enjoyed it with one of them writing that:-
Thank you for taking us around London on our fab ghost walk...When you told us some of the stories you shouted to make us jump and that worked for me because I jumped a lot.We went to many other places but none of them were better than your ghost walk... Definitely not! It was the best of the attractions we saw such as St. Paul's Cathedral; Wembley; The Globe Theatre; Westminster Abbey and the Tower of London.I am sure we all want to go back to London and listen to your ghost stories all over again because they were so good. Your ghost walk was the best of all the ghost walks I've ever heard!!
Lucy
Aged 11
On 24th February 1997 the staff social club at department store Caleys in Windsor booked their own private London Ghost Tour with Richard. As it transpired the skies opened that night and the rain came hurtling down. However, this didn't detract from their enjoyment and one of the participants published the following report in the staff newsletterr:-
Onwards and we find ourselves on the night in question being battered about by horrendous high winds and torrential rain. I was surprised to see the coach was full. If anything can get this amount of people out on a night like this it must be something special.On stepping out of the coach it came as a bit of a shock to be confronted by a man all dressed in black, who turned out to be our guide. Now, why was I with umpteen layers and coats on shivering on this vicious night and our guide was in just an old fashioned suit and looked perfectly warm.The guide's name was Richard, and what a clever dick he turned out to be! I mean that in the nicest possible way, as this man was a STAR. Not only was he a great orator, but he was also a first rate magician.A great evening out enjoyed by everyone I am sure..."
Staff Review
Caleys Windsor
London firm Denton, Wilde, Sapte joined Richard for a ghost walk on 26th February 2004. Emma White, who organised it on behalf of the company, wrote the next day to compliment Richard on:-
"...the excellent Tour you staged yesterday evening. Lots of people said last night how much they enjoyed it. I have had more e-mails this morning saying the same thing. Our events are only as good as the effort people put into organising, presenting and participating in them and I am very grateful to you for making such an effort last night. As I mentioned, it was far more than just a Ghost Tour..."
Emma White
Denton, Wilde, Sapte
GENUINE REVIEWS FROM REAL PEOPLE
These are genuine reviews and comments from real people who are happy to provide their full names (not just initials) and the organisations they work for.
They are, therefore, reviews you can truly trust and are from actual people who have joined Richard on his London Ghost Walk and they testify to Richard's versatility as a guide and to his ability to deal with and appeal to all ages.
JOIN LONDON'S PREMIER GHOST WALK EXPERIENCE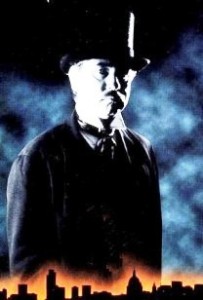 So why not explore haunted London with London's premier ghost walk guide and enjoy an unrivalled opportunity to explore the creepy alleyways and old graveyards that lie scattered about the darker recesses of the hidden city?
In these time-frozen places you will rub shoulders (so to speak) with the ghosts of Kings and Queens; the noble and the ignoble; the famous and the long forgotten.
These lost souls are waiting for the moment when the shadows descend and every footstep echoes eerily through the darkness. They are longing for the late hours when the city workers have retired to the safety of their homes and the streets and alleyways are left empty and deserted.
Then, and only then, can these restless revenants walk by moonlight and venture into the courtyards and passageways of their city - their forgotten city - the City of the Dead.