NEW FOR OCTOBER 2007
THE ULTIMATE LONDON GHOST WALK
THE CITY OF DREADFUL NIGHT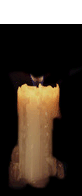 ANCIENT BURIAL GROUNDS, CREEPY PLAGUE PITS AND SINISTER RUINS.
THE SHADOWS JUST GOT DARKER.
NOW THAT THE NIGHTS ARE GETTING DARK LONDON'S NEWEST GHOST WALK BEGINS
THE TOUR STARTS AT 7PM AND MEETS OUTSIDE CANNON STREET STATION
THE COST OF THE TOUR IS £6.50
THE TOUR LASTS APPROXIMATELY 2 HOURS.
A ghost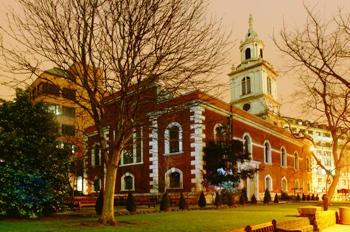 of London walks its weary path down an ancient street, its hollow eyes focussed on some
distant location towards which it has drifted silently through the moonlit mists of centuries. Dark shadows dance across the fabric of ancient buildings the very stones of which resonate with the vibrations of trapped memories from bygone ages. Night has fallen and the daytime population of London has headed home. The city of dreadful night stirs into ethereal life, and the souls of previous times begin to wander their time-worn paths from dusk to dawn.
On this brand new London ghost walk we will tread those paths and seek the stories, tragic or otherwise, that lie behind some of London's most mysterious supernatural happenings. Tales of Roman massacres; of plague and infamy; of long ago curses and dastardly deeds both ancient and modern.

It is a fact that the dead in London far outnumber the living. It is also a fact that there are places at the ancient heart of the old city where the past and present co-exist, albeit awkwardly, side by side. These are the places that some former residents find it difficult to break free of. The places where the air is heavy with feelings of fear and foreboding. In short, these are the places where the bygone populace of London lurks in a limbo in which the veil between the worlds is at its thinnest.
Our City of Dreadful night ghost walk will take you to many of these haunted locations and give you the opportunity to shiver in the shadows as you gaze upon some of the eeriest and most ghostly sites in the capital. From graveyards to plague pits; execution grounds to murder sites; sinister ruins to abandoned Roman forts; this walk has it all.
HIGHLIGHTS OF THIS GHOST WALK
* A bizarre graveyard the level of which has been raised by the number of burials it has accommodated over the centuries. Strangely, it has also been cut in two by a pedestrian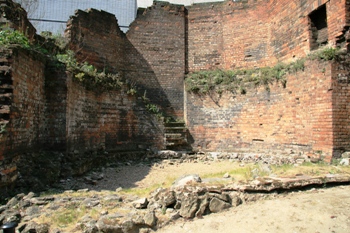 footpath allowing us to stand between its two halves and ponder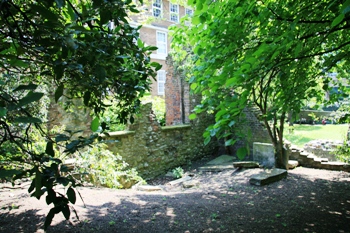 what horrors might lurk behind the brickwork!
* A subterranean Roman Temple that now sits six or so feet up in the air, its stones crackling with energy and mystery.
* A soaring church tower where an ancient curse has thrown its dark shadow across the centuries.
OTHER HIGHLIGHTS INCLUDE
* An ancient hall where ghostly goings on have chilled the blood of many a late night wanderer.
* A Roman fort where a spectral soldier has been glimpsed by moonlight.
* A Roman tower the imposing bulk of which will loom over you. Its sheer size will help you understand why those invaders who arrived in London after the Roman's had departed gave places such as this a wide berth as they were convinced the ruins were haunted.
* A sinister plague mound where ghostly figures have been sighted by those who live and work alongside it, and ghostly voices have been heard whispering by those who have passed this way in the dead of night.
This is totally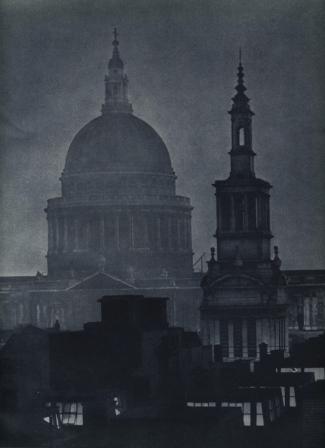 different to any other ghost tour that you might find offered by other London walks.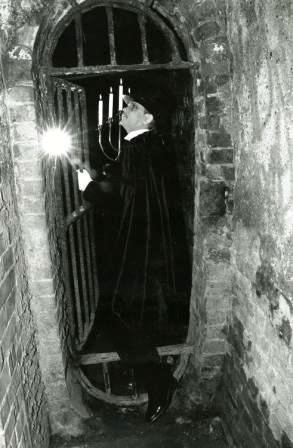 Richard Jones is London's leading ghost walk guide and he has been taking people into the darker recesses of the haunted capital for over 25 years. He is also an acclaimed author who has written 17 books on the paranormal, three of which deal exclusively with haunted London. Who better to introduce you to the ancient burial grounds, creepy plague pits and sinister ruins that lie hidden away behind the streets of modern London? Who better to show you the many and varied places where ghosts are still seen than someone who knows every twist and turn of the old and haunted city?
Richard spent two years as the resident historian on Living TV's hugely popular cult show Most Haunted Live, so he is well versed in all aspects of the supernatural. He has appeared on BBC Breakfast News almost every Halloween since 2000 to talk about Haunted Britain.
But the main thing that separates Richard's ghost tours from those of other London walks is that he doesn't just retell or rehash old ghost stories gleaned from books, but offers up to date accounts of recent hauntings that he has personally researched. No other London ghost walk can offer you that level of expertise, pedigree and sheer originality.
So join London's master of the macabre for a chilling walk through the dark shadows of the world's most haunted capital city where a host of former residents have been dying to meet you!
WANT TO SPEND A NIGHT IN A HAUNTED HOUSE? VISIT OUR HAUNTED BRITAIN SITE.
WANT TO KNOW WHO JACK THE RIPPER WAS? TAKE OUT JACK THE RIPPER TOUR.
FANCY DOING A GHOST WALK ON YOUR OWN? Come see our free London walks site.